Considering that nowadays there is an increasing chance that your son or daughter will spend more and more time indoors in front of the mobile, the internet or the TV, buying your kids a bicycle could be the solution for a healthier, more active childhood. Today, the greatest risk to children's health is not bicycle riding injury, but lack of exercise.
With ever-growing vast options in sizes and models, online purchase has become a rapid and comfortable way to buy a children's bicycle.
How to choose Best Kids Bicycle
Kids grow fast. so buying a bicycle for them can be a daunting work for their parents. There are many subtle questions in your mind like budget, size, quality of the bicycle which is quite obvious.
So, to cut through the confusion here is Kids bicycle buying guide you need to consider before buying it. The following are the points you need to think through.
Appropriate Size
One of the most important matters to consider when selecting children's cycles is the size. It is crucial to determine the correct kids' bicycle size when making a purchase. Ensure that you pick an age-appropriate bicycle size for your child.
It's important to note that the diameter of the wheels, rather than the frame's size and the seat's height (as with adult two-wheelers) establishes the size of kids' cycles. Select a bicycle where the seat can be lowered adequately so that the child can be seated and have both feet flat on the ground.
The following chart will guide you for an appropriate bicycle size as per the kids' age groups.
| | | | |
| --- | --- | --- | --- |
| Wheel Size | Kids Age group | Child Height (in.) | Inseam (in.) |
| 12-inch | 2-4 | 30-39 | 12-17 |
| 14-inch | 3-5 | 37-44 | 16-20 |
| 16-inch | 5-8 | 39-48 | 18-22 |
| 20-inch | 6-10 | 42-52 | 21-25 |
| 24-inch | 8-12 | 50-58 | 24-28 |
| 26-inch | 10+ | 56+ | 25+ |
Don't get too hung up on the ages listed for each bicycle size. This is just a guideline, and you should keep in mind you may have to get a bigger (or smaller) bicycle if your child is taller (or shorter) than average. Even if you're going to buy your bicycle online, it's probably a good idea to find a shop selling kids bicycles so your child can try sitting on a couple of bicycles.
A simple checklist for determining if the bicycle is the right size for your child is:
Your child should be able to comfortably straddle the bicycle (i.e. standing over the top bar of the frame) with both feet flat on the ground.
They shouldn't be scrunched up when sitting on the seat with their feet on the pedals (knees hitting the handlebars is a dead giveaway that the bicycle is too small)
They should be able to comfortably reach and turn the handlebars (if they can't, the bicycle is too big and unsafe).
If the bicycle uses hand brakes, they should be able to reach the brake leavers easily.
You can further decide if a bicycle is a right size, by conducting some tests. Make sure that the child can mount and dismount the two-wheeler easily. Also, the child should be able to sit astride the bicycle with ease, while his or her feet are adjacent to the ground. Ensure that the bicycle is neither too high nor too low for them to seat comfortably.
Types of kids bicycles
The next step is to determine the type of bicycle you want. Many parents question if a girls-specific and boys-specific design really matters on kids' bicycles? The answer is no, the type of bicycle does not matter. The difference in the girl's or boys' designs has zero impact on functionality.
The following are some types of kids bicycles.
Balance bicycles
This is considered to be the best option when it comes to kid's bicycles. The concept is extremely wonderful. Balance bicycles are available without pedals. So, instead of focusing on pedaling, your child learns to work on balance. Children who use balance bicycles have the additional advantage of working on their balance, coordination, motor skills and other developmental advantages.
Kids who use balance bicycles also move over almost instantly onto bigger bicycles. This is because they are not scared of balancing anymore and therefore can now focus on pedaling.
12-inch and 14-inch bicycles
Suitable age group: 2-5 Years
If your child is between the ages of 2 to 5-year old, a 12-inch or 14-inch bicycle would be an ideal option depending on a child's height. These bicycles come with removable training wheels.
Sometimes 12-inch bicycles come with handlebars steering mounted at the rare end of the bicycle. These bicycles can teach your child various kinesthetic skills, including pedaling, sitting and braking.
16-inch bicycle
Suitable age group: 5-8 Years
Kids aging between 5-8 years will probably be happy with a 16-inch wheel bicycle. This bicycle often comes with removable training wheels and is gearless.
Within that age range, children learn to balance, and skills to ride a bicycle without the training wheels. However, it's also important that children be mentally prepared for cycling, which doesn't' occur in some children until the age of 8-year-old.
Since these bicycles are gearless, they possess only a single speed and have rear coaster brakes.
20-inch bicycle
Suitable age group: 6-10 Years
The 20-inch bicycle is perfect for the kids with an age range of 6 to 10 years. Children can enjoy the single as well as variable speeds with the gearing facility.
With 20-inch bicycles, the children are ready to ride for longer distances, faster and can also enjoy riding their first bicycle with gears. The 20-inch bicycles are generally BMX bicycles and mountain bicycles. These bicycles have lightweight frames and dual-hand brakes which are uncomplicated for kids.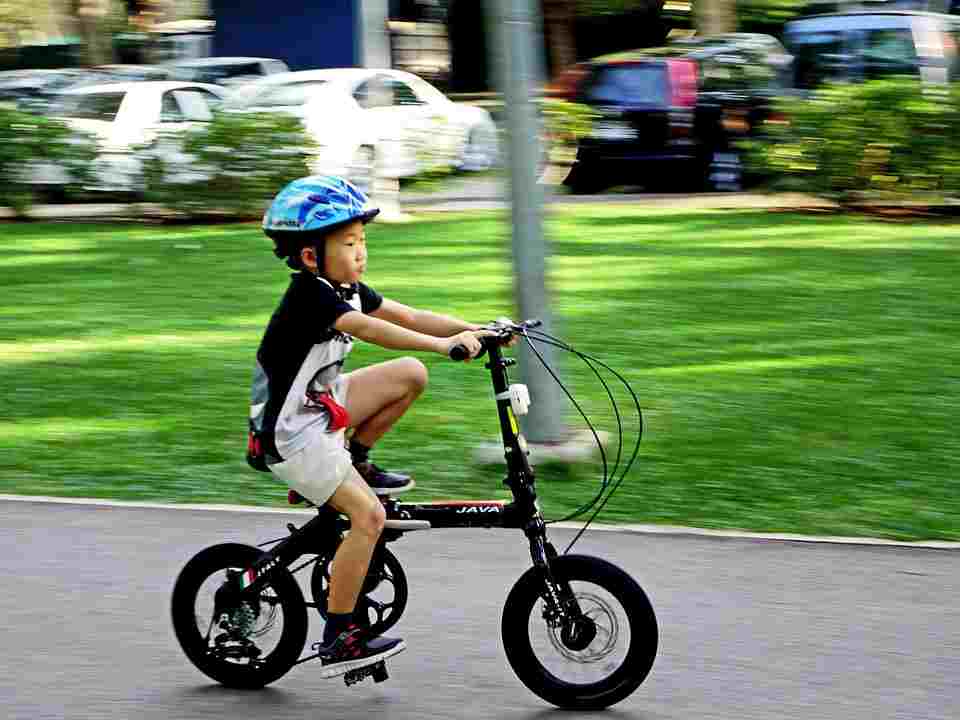 24-inch bicycles
Suitable age group: 8-12 Years
24-inch bicycle is the best option for kids with an age group of 8-12 years. These bicycles have adult bicycle features in a small model.
These bicycles are best suited for off-road rides or wandering around the city. This bicycle is also available with a short stand-over height that allows the kid to reach the ground while riding effortlessly.
They have features like multi-gears, studier wheels, dual-hand brakes, and front suspension.
26-inch bicycles
Suitable age group: 10 + Years
26-inch bicycle models are suitable for big kids for the age of more than 10 years. These are specially meant for the taller kids whose height is more than 56-inch.
These are almost the same as an adult bicycle and nearly as fast and practical. Are available for both road and mountain biking.
There's a variety of styles and price selection from these wheels' categories.
Quality of material
The material used for kids' bicycles can differ as per the price range and it greatly affects the appearance, weight, and durability of the bicycle. Generally, kids' bicycles are made up of either steel or aluminium.
Ensure that the bicycle you are buying for your kid is made up of good quality steel or aluminium. Also, make sure that the tires have been made out of the best possible material for your kid (it helps if they are anti-puncture). It is better to buy a more expensive bicycle than one of the cheaper alternatives available on the market.
Steel bicycles are proven to be highly durable and the most cost-effective option with the ability to withstand rough areas. However, these are heavyweight and can rust.
Aluminium bicycles are nearly rust-proof, lightweight and highly durable but are available at an additional cost to that of steel.
Type of Gears
Kids bicycles generally initiate with a single gear to maintain the single speed and making the cycling experience a comfortable one for the kids. But as the kid grows up and gets more proficient and skilled, variable speeds can be achieved through gearing facility.
The gears control how many pedal rotations it takes to make a single tire rotation. If your child will be riding long distances or traveling up and down steep hills, multiple gears are highly desirable.
Gears are available on some 20-inch bicycles and most 24-inch as well as 26-inch bicycles. As compared to gearless bicycles, geared bicycles generally require more maintenance. Moreover, kids can find geared bicycles tougher than single-speed bicycles to use.
The geared bicycles have the shifting mechanism, which is located on the rear axle of the bicycles.
At the lower end of the price range, you can find smaller bicycles provided with coaster brakes and training wheels. In the middle, price range, you can find a wide assortment of bicycles and features. At the higher end, you can get larger bicycles with full suspension and handbrakes.
Tyres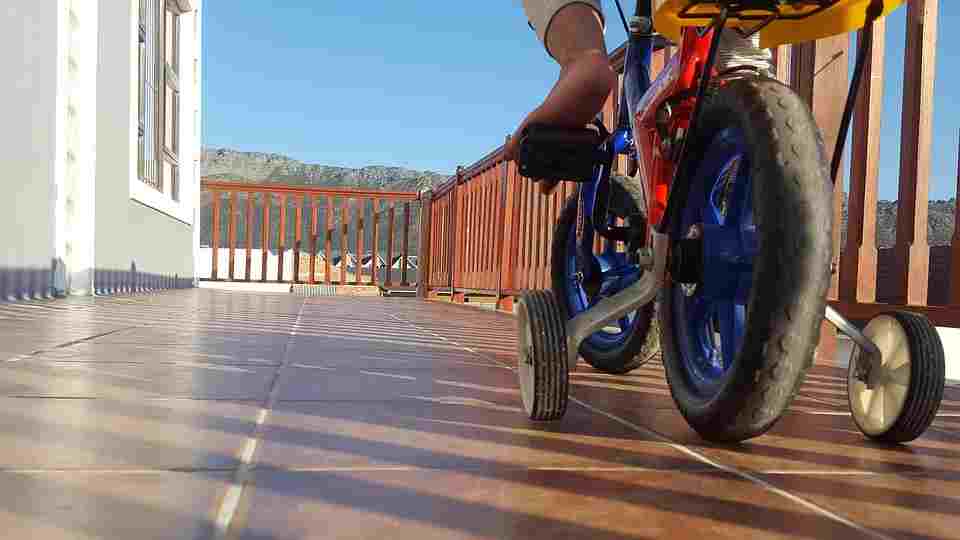 Tyres are the most crucial element of the bicycle. They can make or break ride quality. They allow the rider to roll over the ground with great speed and efficiency. Pay more attention to the tyres that you have chosen for your kids' bicycles.
Tyres of the bicycles are available in different types. Viz, pneumatic tyre, solid foam, honeycomb rubber, hard plastic, and solid rubber. Bicycles with smaller sizes till 14-inch can be offered with all of the above materials. But higher size bicycles come with pneumatic tyres.
Pneumatic tyre means a tyre inflated with air. These tyre are the most popular which provide comfortable rides.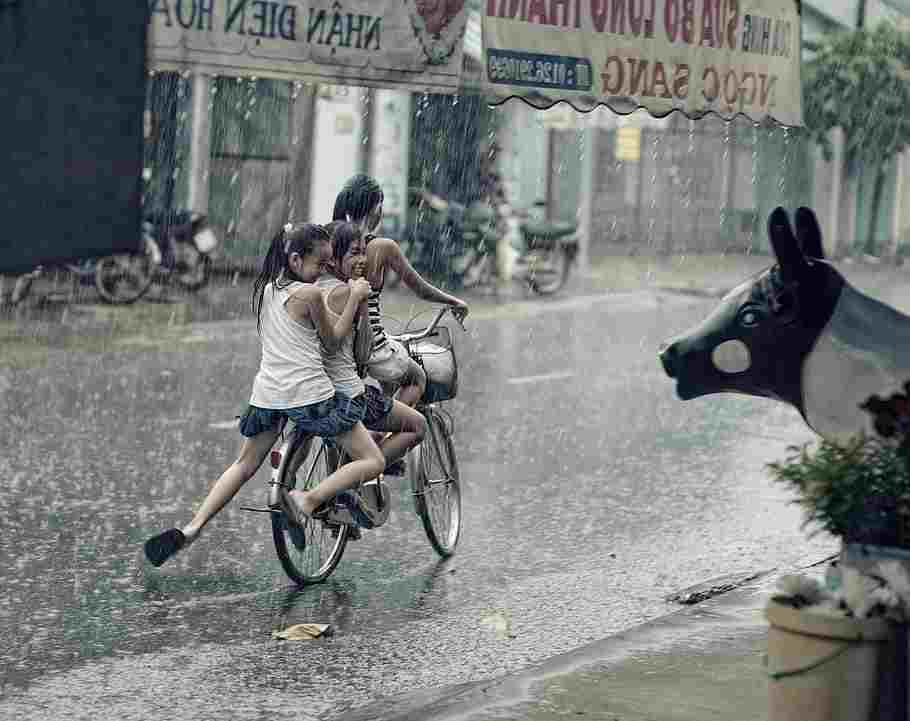 Make sure that the wheels are functioned to use in all weather conditions, especially during the rainy season when the wheels possibly spin out on the wet road, making him lose balance.
Bicycle Weight
It's essential that you consider different designs of each variety, to determine which one is ideal for your child. Test to verify that the bicycles are strong and sturdy enough for the child's weight and the two-wheeler's speed.
The size of the bicycle, material used to make it and the type of tyres collectively decide the weight of the bicycle. If the bicycle is weighty, the kid will find it stiffer to maneuver, resulting in hampering his riding enjoyment.
Even though steel frames are used for a liable strength ability, those are responsible for adding on a lot of weight as compared to the aluminium ones. Thicker and larger tyres also append the additional weight to the bicycle.
Generally, kids' bicycles weigh around 25-40% of their weight but this percentile can vary according to their age and height proportion.
Brakes
Brakes are a very important feature of a bicycle – you want your child to be able to stop if they need to! The two common types of brake on kids' bicycles are the coaster brake and the hand brakes.
Coaster brakes
This brake is in the back wheel, and the child activates it by pedaling backward. Young kids' bicycles should always have coaster brakes (since their hands aren't big or strong enough to use hand brakes). As they get older, the option for hand brakes becomes available.
Hand brakes
In this type of brake, leavers on the handlebar are pulled, which causes the brake on either the front or back wheel to engage. If the bicycle has hand brakes where the brake pads press directly on the rims of the tire, ensure that the tyre rims are made of alloy. Steel rims can be dangerous when they get wet, as the braking ability of the bicycle is significantly reduced with this brake/rim combination.
Seat Height
Another point to consider while selecting the kids' bicycle after you have chosen the right size bicycle is right 'seat height'.
The best way to choose the right seat height for kids' bicycle is to ask your kid to place one of his feet on the ground while staying in the saddle. The kid should be able to get one foot on the ground while still remaining seated. It is advisable to have the height-adjustable seats as per the comfort of the kid.
Budget
Your overall budget is just as important as any other feature that you can think of. If you really want to buy a new bicycle for your kids, then why not explore for an inexpensive but high-quality one. kid's bicycle is a great excuse to dish out some money for your kids. There are many ways wherein you can buy kid's bicycles within your budget.
The first and the most popular place to shop is through the internet. There are many websites that offer discounted bicycle prices for parents. A good thing about buying online is you can check other customer reviews about a certain bicycle and compare it with other bicycles in the market.
Furthermore, the second way to look for kid's bicycles within your budget is through bicycle factories. Buying in factories is also a great option. Rather, you can easily choose from a vast number of bicycles with different designs and features available.
Another way to buy kid's bicycles is to search for bicycle sales and discounts in malls or bicycle retail shops. Just remember that you have to buy one as soon as the discounts are offered because these are for limited periods.
Safety
Next, when choosing your kid's bicycles, you are going to want to look at the safety features it has to offer.
The following are some safety tips for kids' bicycles. A well maintained and adjusted bicycle, with particular emphasis on adequate brakes and tyres is highly recommended. Also, make sure the children wear helmets and protective gear like gloves or even knee pads while riding the bicycle.
So, no matter which kids bicycle you choose, the aforementioned points are a few good guidelines to follow. Have the Best deal!