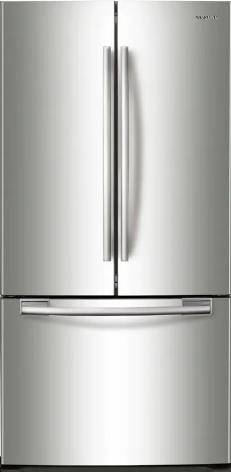 Are you bored with your kitchen design? Do you want to update that area of your house? Do you need a new refrigerator? How about trying a modern style French door refrigerator? These refrigerators, that are also known as double door models, are trendy and come in a variety of sleek styles.
French door refrigerators are a great option while upgrading or renovating your kitchen. In most cases, the refrigerator is one of the largest appliances you will buy for your home, so be sure to choose wisely. This type of refrigerator has become more and more popular these days, mainly because of their stylish looks and efficient use of space.
Reading through all the refrigerator reviews, ratings, and consumer recommendations can be mind-boggling. After all, there are so many diverse models to choose from in addition to all variety of brands, styles, even colors. So where do you start? We have put together this handy 'French Door Refrigerators Buying Guide' to help you make the right choice.
Also Read: Best Refrigerator Buying Guide
What are French Door Refrigerators?
French door refrigerators are the ones that swing open from the middle and have dual doors. The doors may be opened together or one at a time. These models have an elegant appearance that fits the minimalist and linear look of many modern kitchens.
The dimensions and internal compartments of French door refrigerators vary depending on the brand and manufacturer. However, they usually have a drawer-style freezer and narrow double doors to access the refrigerator. The freezer space is usually built-in at the bottom. The shelves on the refrigerator compartment of this modern home appliance are usually wider than in typical models, allowing for storage of bigger food items.
The French door refrigerator is, without doubt, one of the "crowd favorites". This is mainly not only because of its trendy and stylish outer design but also because the idea behind this refrigerator type is to combine the best qualities of the refrigerators that came before it into one reliable kitchen appliance.
Also Read: Best Refrigerator Buying Guide
Important Things To Consider For Buying French Door Refrigerators
Many people are shifting their buying preferences from the traditional top-freezer and single-door refrigerators to bottom-freezer and double-door ones, for many good reasons.
There are literally ample of choices and brands available in the market. However, while buying the French door refrigerator, you need to pay attention to following important considerations in order to ensure the right model for your home.
Size
French Door Refrigerators are available in a variety of sizes. You have to keep in mind how much space you have in your kitchen and how your new refrigerator will fit in. If you are purchasing this refrigerator as a replacement for your older refrigerator, you may need to make some adjustments to account for the different sizes and shapes.
The standard size of a French door refrigerator is 30 to 36 inches in width, average height is 69 inches and 30 to 34 inches in depth.
Interior capacity of French door refrigerators
Interior capacity is another aspect to be considered while choosing the French door refrigerators. This characteristic of a refrigerator is usually measured in cubic feet.
This differs from one model to the other, depending upon the size of the refrigerator you choose for your home. Generally, French door refrigerators have the capacity range of 15 to 30 cubic feet.
Energy Star Compliant
It is nice to have a refrigerator that is rated to be efficient energy-wise. How nice it would be to keep some greens in your refrigerator while keeping some greenbacks in your wallet. That's another way to say that you are going green.
With the French Door model refrigerator, you will find that most of them are Energy Star approved. That means, "They meet strict energy efficiency guidelines set by the Government". If you find one that is not approved, you know to go to another model or brand. When one door opens, only half the cold air escapes than would be if opening a full door. Once you experience the "half-door" effect, you will be hooked on choosing the French Door Style.
Model and Brand
Numerous companies are manufacturing a variety of French door refrigerators that come in different sizes and models. You have to choose the model and brand of the refrigerator that fits your personal needs and budget. You can do a little bit of research over the internet and also ask for referrals from people who you know who are already using French door refrigerators.
Also Read: Best Refrigerator Buying Guide
High-performance features
French door refrigerators are pricey than other types of refrigerators. But they have features that justify their extra expense.
There are many types of French door refrigerators in the market today, and the most top-rated models offer an amazing array of 21st-century features, including adjustable shelves and bins to better accommodate tall beverages like juices, wine bottle or gallon of milk, over-sized or odd-shaped food items.
High-end units are also better calibrated such that steady temperature is maintained, giving the unit better capabilities to keep food in good condition for longer periods. The freezer storage space is much bigger than in regular refrigerators, accommodating more food items to be stored for longer periods.
Special features are also added to the design. There are models that signal sounding an audible alarm when the doors are kept open. Some top-end models also have special mechanisms fitted onto the freezer door for easier access. They come with a multitude of features including ice dispenser, filtered water dispenser, coffee makers, cappuccino makers, ice machines and even an LCD screen that gives the nutritional value of the contents of your refrigerator.
Style and Finish
While it is enough for some that the French door refrigerator offers great temperature management and ample storage, others are more particular with the style and appearance of the home appliance that they purchase.
Generally, it is available in white, black, or stainless steel finish. So choose your refrigerator style and finish wisely as per your aesthetic concerns and requirements.
Also Read: Best Refrigerator Buying Guide
Benefits of a French Door Refrigerator
Spatial Benefit
When one experiences opening a French Door, it's quite the advantage to have fresh food at eye level instead of having to bend down to avoid the freezer. The freezer located at the bottom is convenient because everything is just as accessible below as was when the freezer was on top. Most people don't go to the freezer as often as the fresh food section, so it's a wonder why the bottom freezer idea has taken so long to catch on.
Preserving food freshness
French door refrigerator has a better temperature control system which has at least a couple of different sensors for monitoring different parts of the refrigerator. The cause behind this is a different type of foods need different settings in order to stay fresh for a longer period of time. Also mixing of odors from the freezer unit into the refrigerator unit is avoided since it has a dual evaporator system, one for the refrigerator, and another for the freezer.
Toughness
French door refrigerators are high in durability, making them suitable for large households. The constant usage of a refrigerator in such settings characterized by opening and closing can subject it to wear and tears. The toughness of these refrigerators, however, can withstand and endure the everyday harshness since they are designed to last. The components are high in quality and stand the severities that come with repeated use.
Unique Design
When we compare the French door refrigerators with the other models of the same capacity, it is more spacious as compared to them due to its very unique design. This is one of the best advantages of having a French door refrigerator.
Another advantage of having dual doors is that in order to swing open the doors, one needs lesser space. This is very helpful for people who have space limitations. Moreover, the doors can accommodate bottles and other small things on the side panels.
Aesthetic View
The French door refrigerators are sleek stylish, and trendy which one can use them with ease and compliment any house décor. They are capable of adjusting to a new look and surroundings without looking out of place. They are noticeable and easily make the central points of any kitchen. They actually are stylish in that they end up adding beauty to the areas within which they are placed.
These are just some of the most important considerations to make before deciding which model of French Door refrigerator is best for you. It's also always wise to check out the user ratings on specific models in order to see what the public is saying about it.
Also Read: Best Refrigerator Buying Guide