Finding the finest laptop for your specific needs can be difficult for many people. There are numerous laptops available on the market for every budget. If you prefer brands, the three major players are Lenovo, HP, and Dell.
These companies are well-known for providing high-quality devices in a variety of styles.
Which of these brands, however, provides the most value for money? This is a question that needs substantial research and analysis. That is why we have decided to compare these well-known brands.
Continue reading for an in-depth comparison at each end of the spectrum.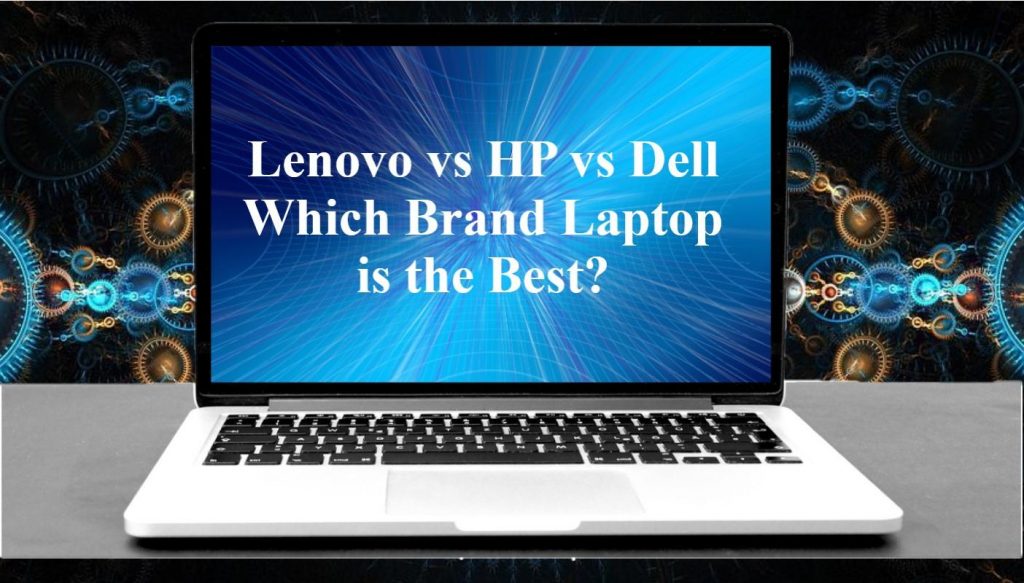 Lenovo vs HP vs Dell : Business Profiles
Lenovo
Lenovo is a Chinese technology corporation headquartered in Beijing, China, and Morrisville, North Carolina, in the United States. This business has grown since 1984 and today employs over 54,000 people. Lenovo was one of the world's largest computer vendors in terms of unit sales from 2013 to 2015.
Lenovo manufactures smartphones, televisions, tablets, and a variety of laptop computers. Its ThinkPad and IdeaPad products were well appreciated by customers all around the world.
HP
HP, or Hewlett-Packard, is a worldwide firm founded in 1939 and based in Palo Alto, California. In 2007, it topped HP to be the leading global Laptop producer and the position it held until 2013, when it was surpassed by Lenovo. In 2017, HP reclaimed the top position, but a year later, it was reclaimed by Lenovo.
Dell
Dell is a multinational technology corporation headquartered in Round Rock, Texas. Michael Dell created this company in 1984, and it is now one of the world's largest technology corporations. This corporation was privatized in 2013 and employs over 100,000 people worldwide.

Dell manufactures desktop computers, laptop computers, and other electronics and is well-known for its build-to-order production and direct sales method.
Lenovo vs HP vs Dell : Components
Lenovo Laptops
In recent years, Lenovo has created numerous well-known laptops. The Thinkpad is the most popular professional laptop, but the Ideapad has also sold a large number of things to more casual day-to-day users. The high-end Lenovo Thinkpad is distinguished by its trademark red trackpoint.
Most Lenovo laptops utilise Intel CPUs, although certain Lenovo PCs, such as the Flex 11 Chromebook, use MediaTek processors as well. Similarly, dual-core processors are used in low-cost laptops, whereas quad-core processors are used in higher-end versions.

In terms of graphics, Lenovo sticks with Intel and its HD graphics processors. Lenovo utilizes GeForce processors, that are famous for the great performance, in their gaming laptops.
Lenovo laptops include a variety of screen sizes, although they appear to lack high-resolution screens when compared to comparably priced laptops.
HP Laptops
Generally, HP is a well-known brand in the laptop sector, and they are one of the top laptop sellers every year. They have a wide choice of laptops, many of which are premium choices, but they also have some lower-cost options, like as the Pavilion series.

HP laptops are usually costly, so there aren't many deals to be found among their offerings. Despite this, the most most of them are designed with Nvidia Geforce graphics cards and Intel Core processors, which command a higher price than less expensive model components.

They are one of the few large brands to have successfully joined the gaming business, and their HP Omen line is regarded as a high-quality gaming laptop.
In terms of graphics, HP offers a wide range of distinct quality and possibilities. For example, HP's 2-in-1 Spectre x360 is available with a dedicated NVIDIA GeForce GPU or AMD's Radeon graphics chip. The HP Omen 17 comes with a 4K display and an Nvidia GeForce RTX 2070 GPU. In a nutshell, HP laptops will not let you down.
Dell Laptops
Dell is a well-known laptop brand because to its solid reputation. The company makes laptops that are undoubtedly the best in the industry in terms of features, durability, functionality and performance. With your eyes closed, you can bet on Dell laptops.
Dell laptops are available with a number of screen sizes. Cheap models' 11-inch screens are true high definition, whereas gaming laptops have superb visual clarity and full HD resolution. Dell uses both NVIDIA and AMD Radeon graphics processors for graphics, both of which have a strong track record and are benchmarks.
Dell should improve its power sources, as the majority of its laptops only have three-cell batteries. Batteries with four or six cells can increase PC performance and charge retention.
Also Checkout
HP vs Lenovo Laptops – Which Brand is Best?
Lenovo vs HP vs Dell : Popular Series
Another Lenovo laptop series worth considering is the Yoga series, which is often fairly priced and well-designed.

The majority of the series is Lenovo's take on the convertible laptop, which is a regular laptop that also serves as a tablet (also known as 2-in-1 laptops).
However, in recent years, Lenovo has introduced more regular laptops under the Yoga brand, with the substantial benefit of a slimline form. The Yoga line provides a number of professional laptop options, however they are frequently not the most powerful or high-spec laptops, and are more focused on style and user friendliness.
Lenovo's initiative in producing new products and keeping a competitive edge is demonstrated by the Yoga series. Some brands, such as Apple, have done this successfully, while others, such as Dell, have not done so effectively enough.

So, while Lenovo's Thinkpad line continues to lead the industry, they are also gradually conquering other parts of the market.
If we're going to look at Lenovo's Yoga series, we should definitely look at some of HP's finest convertible laptops as well. Despite the fact that not all of the Spectre line is convertible, the x360 is one of the best 15-inch laptops manufactured in recent years.
Even though they both manufacture the same product, the Spectre series is superior to the Envy series in terms of quality. The HP Envy x360, for example, is also accessible and reasonably priced, but the Spectre x360 has a more robust base and usually comes with more expensive hardware.
HP, like many other laptop makers, makes use of Intel processors and, in some cases, graphics processing units (GPUs). This implies that you can simply upgrade from an i5 processor to an i9 processor with most of the base models.

For individuals looking for an HP laptop, the Spectre series is one of the best options. Though it is not suited for people searching for an entry-level alternative, it is a great investment if you can manage to purchase it.
Dell's Inspiron laptops have been completely revamped, with new looks and colours "inspired by nature," the company says. Dell claims that the new Inspiron series delivers the most recent PC advancements and adapts to a "learn-or-work-from-anywhere lifestyle".
Dell Inspiron 13, Dell Inspiron 14, Dell Inspiron 15, Dell Inspiron 16 Plus, and Dell Inspiron 14 2-in-1 laptops are part of the revamped series. They have slimmer bezels, a larger touchpad, longer keycaps, and other usability upgrades.
The Dell Inspiron range of laptops now come in a variety of new colour choices, with the company claiming that all painted parts use low volatile organic compound (VOC) aqueous paint.
Furthermore, Dell claims that the packaging box is made entirely of recycled paper, and that additional packaging materials are created from up to 90% recycled resources. Windows 10 is installed on all of the laptops.
Lenovo vs HP vs Dell : Pros and Cons
Pros and Cons of Lenovo Laptops
Pros
✅ Lenovo laptops are difficult to beat in terms of pricing and power.
✅ While battery life varies depending on the model, Lenovo laptops have a pretty good battery life.
✅ They cover a large portion of the consumer market with the Yoga series, the Ideapad line, and the Lenovo Thinkpad line.
Cons
⛔ While many people like Lenovo's minimalist design, some think it's too simple and that it's not the most visually appealing laptop on the market.
⛔ Aside from the Thinkpad, the brand doesn't have anything to offer at the highest end of the pricing spectrum.
⛔ They are more affordable than many other models, but not as inexpensive as the two Taiwanese laptop brands.
Pros and Cons of HP Laptops
Pros
✅ Typically, HP laptops are among the most aesthetically pleasing models available. They're well-finished and, more often than not, of a good quality.
✅ In general, HP offers a large choice of different laptops to choose from. So, whether you want a cheap laptop or a high-end model, you may choose a machine that fits your budget.
✅ HP is still one of the most well-known names in computers, which appeals to many individuals.
Cons
⛔ HP does not offer the finest customer service, depending on whatever countries you are in.
⛔ Although there is a lot of variety, it can be tough to tell which model is best for you because the model names are not always clear.
Pros and Cons of Dell Laptops
Pros
✅ The most crucial component in the success and appeal of Dell laptops is their aesthetics. Its design is quite simple and of the next generation.
✅ Dell offers laptops in a variety of price levels, ranging from luxury business laptops to the low-cost Inspiron series.
✅ Dell's technical and after-sales support is commendable, and people all over the world admire it.
Cons
⛔ The build quality of high cost and premium laptops are high but it decreases as the prices comes down.
⛔ Dell laptops are heavier than the other laptops.
Also Checkout
HP vs Lenovo Laptops – Which Brand is Best?
Lenovo vs HP vs Dell : Pricing
Lenovo
The Chinese brand is well recognized for being famous in Asia, but they've grown so much in popularity in recent years that they're now on level with the two American giants, Dell and HP.
In terms of pricing, Lenovo is an excellent choice if you are on a tight budget or searching for a laptop that is reasonably priced.
Much of this is due to the quality and affordability of their laptops, which are typically slightly less expensive than luxury brands while maintaining the same level of quality.
In general, Lenovo laptops offer great value for money and are among the most affordable premium laptops available. They are of higher quality than companies like as Acer, yet less pricey than Dell.
They offer a good medium between the two price levels, yet despite their low price, the quality is still extremely good.
HP
HP laptops appear to be more expensive than competitors, particularly when compared to higher-end laptops. However, HP provides high-quality hardware, so give it a shot in this test.

However, HP appears to be more pricey on most laptops (perhaps due to their fixed name) compared to other companies.
Dell
Dell laptops are reasonably priced, and they have machines to suit different programs and budgets.
Dell sells its products through authorized dealers rather than third-party outlets, allowing it to provide high-quality computers at reasonable pricing.
Dell's low-cost PCs outperform several of their more expensive competitors. Furthermore, if you can't find a suitable model in Dell's current lineup, they will build you one, but it will cost more than an off-the-shelf machine.
Lenovo vs HP vs Dell : Customer Support
Lenovo
You can contact Dell's customer service by online chat, phone calls, or email. As long as emails are received, responses should take no more than 24 hours.

Depending on the product, most Lenovo laptops come with a 12-month warranty. The Lenovo warranty may also cover the service's transportation charges. This, however, is dependent on the model.
Lenovo also provides customer service that is available 24 hours a day, seven days a week.
HP
If you call HP customer support, be prepared to wait a little longer, which can be aggravating, especially if you have an urgent problem.

Fortunately, the online chat support and social media representatives are far more helpful.
A one-year warranty that covers support is included with an HP product. Of course, this is dependent on the model you select. While some laptops include free shipping for service, low-end ones do not.
Dell
Dell excels at customer support, allowing you to communicate with specialists via live chat, email, or even Dell Preventive Diagnostics.

This is a well-established technological company with renowned technical support. They provide a variety of technical help options, including live chat, social media support, and a phone number.
The Dell website includes a decent collection of help articles that address typical user concerns. Another alternative is to send a Tweet, and a Dell will respond you as soon as they receive it.
When To Choose Lenovo
When seeking for a long-lasting business laptop built with high-quality components at a fair price, any of the finest Lenovo laptops should be considered.
They provide an outstanding selection of laptops that are capable of doing a variety of activities efficiently.
If you're on a tight budget, this's the brand to go with. Their Chromebooks and convertible laptops will ensure that you get the most bang for your buck.
QuickBooks runs smoothly on Lenovo laptops. QuickBooks and other accounting software programs work well with the Lenovo ThinkPad P50 Mobile Workstation.
When To Choose HP
HP PCs are more feature-rich and proven to perform better than Dell and Lenovo machines.
HP laptops distinguish out due to their high quality, dependability, and performance. If you want a laptop to play games or watch movies on, HP tends to outperform the competition. It's difficult to beat the HP Omen at games.
HP computers have a longer battery life than Dell and Lenovo laptops. If used correctly, the battery will survive for several years with no perceptible loss of power. HP is one of today's major laptop manufacturers. This brand is today quite popular among gamers, students, and casual users all across the world.
When To Choose Dell
If you want a laptop built by a well-known name in the IT industry, Dell is the reliable name to trust on
With options, value for money, performance, and excellent customer service, purchasing one of the finest Dell laptops is a sound investment.
In terms of Dell laptop models, certain models may be more advantageous and accessible to some customers than HP or Lenovo comparable models, notably in terms of price.
Dell also provides better customer service than Lenovo or HP.
Summing Up
To summarize, while Dell offers unparalleled customer service and some really cool notebooks, HP is developing more imaginative designs and putting higher-quality components into its most current product lines. Nonetheless, when it comes to customer happiness, Dell comes out on top. Not to say that Lenovo or HP are poor, but Dell provides more comprehensive options.
The final judgement in the Lenovo vs HP vs Dell debate is that HP is superior to both Dell and Lenovo. This is because they are attempting to evolve their laptops' shape and function depending on their target users' real needs while providing excellent performance.
Also Checkout