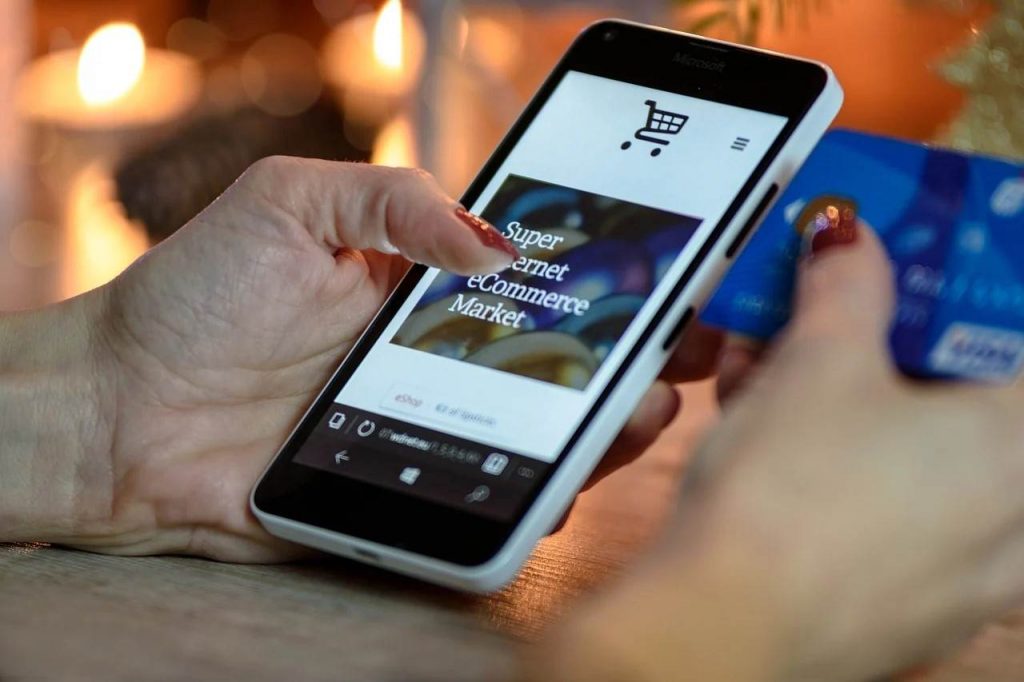 Online grocery shopping has become increasingly essential in the present circumstances. The explanation is simple: the Covid-19 pandemic, which has wracked the world since early 2020, demonstrates how overcrowding can lead to infection. Shopping online for groceries from your mobile apps helps avoid this danger.
online grocery shopping in India is not a new phenomenon. It's been here for quite some years..

Grocery shopping accounted for just around 5% of all online sales once upon a time. The year 2021 will give India's online grocery stores a much-needed new boost.
Rising Trend of Online Grocery Shopping in India
The popularity of online grocery is growing for a variety of reasons. Many people discovered this during the Covid-19 pandemic, which necessitated social isolation and self-quarantine. Also, there are many Best online grocery shopping sites in India.
Apart from above, there are other advantages as well. Let's take a look at them one by one.
Shop at Your Convenience
With online grocery stores, in just a few hours, you can have groceries delivered right to our house. As a result, grocery delivery stores save time while still assisting you in getting what you want.
Discounts and Savings
Online stores are considerably cheaper than in brick-and-mortar or physical stores.
Product Selection
Leading online grocers deliver to all parts of India. As a result, they have a large selection of items to choose from.
Home Delivery
This is one of the most significant benefits of shopping for groceries online. You don't have to commute, ride, or drive because everything is delivered to your door.
Free shipping, however, is only available when your order is worth a certain amount or more.
Multiple Payment Options
Credit cards, debit cards, net banking, the Unified Payment Interface (UPI), and mobile wallets are all accepted by large online grocers. Some places also accept cash-on-delivery.
Special Deals
When you shop with online grocers, they also offer fantastic cashbacks, freebies, and other exclusive deals. These will help you save money by cutting your grocery bills in half.
If you haven't tried online grocery shopping yet, I suggest you do so at least once. You will undoubtedly become a fan of online grocery stores with your experience.
Also Checkout: 11 Clever Tips for Grocery Shopping On a Budget
Top 21 Online Grocery Shopping Stores & Apps
I would recommend following 21 online stores and apps for online grocery shopping in India for the best shopping experience, discounts and special deals, free delivery, and much more.
1) Amazon Pantry
Amazon Pantry is the most popular online grocery store in the world. It is, as the name implies, an Amazon product.

Look for the Amazon Pantry option on their website or app to purchase groceries. They have a fantastic grocery range, as you expect from Amazon.
2) Flipkart Supermart
Flipcart Supermart is a relatively recent participant in the online grocery sector. Flipkart, India's own online shopping website, is the source.

The Flipcart Supermart website or app can be used to place grocery orders. Flipcart Supermart ships all over India. On Flipcart Supermart, you'll find groceries from your home state or region. Flipcart Grocery is one of the best online stores in India.
3) Big Basket
Big Basket is yet another major player in Indian online grocery shopping industry. They have a website and an app that allows you to shop for groceries online.

Big Basket also has partnerships with local merchants. This allows them to pick all of the goods from the closest suppliers and supply them quickly.
4) Grofers

Grofers is a popular online grocery ordering store and app. Grofers has been a household name for online groceries over the years.

They have fantastic deals and a wide range of items to fit any budget or need. You can also use promo code of Grofers for maximum savings.
5) Nature's Basket
Nature's Basket is a one-of-a-kind online store that specializes in the highest-quality produce and groceries. Check out their extensive range of organic foods and grains.

Godrej, India's largest industrial conglomerate, has launched a website and app called Nature's Basket. While some of the products at Nature's Basket are more expensive than those at other online stores, the quality is unmatched.
6) D-Mart Ready
D-Mart Ready is another Future Retail store. This is the online version of D-Mart, one of India's most popular physical supermarkets.

In addition to your monthly groceries, you can purchase a variety of other items on D-Mart mobile, such as clothing and gifts. They also have a portion dedicated to stationery.
7) Reliance Smart
Reliance Smart is a well-known and reliable online grocery store. In addition to common and famous brands in India, they have their own line of products.

Reliance Smart provides delivery in India's megacities as well as some Tier-1 and Tier-2 areas. They're currently expanding their network to provide online grocery shopping services to customers in other parts of the world.
8) Spar
Spar is your one-stop online shop for groceries at rock-bottom rates. Spar also sells fashion and beauty goods, as well as electronics and home decor pieces, among other things. A total of 20000+ products are available, spread across various verticals.
You should expect some fun sales at Spar, where you can undoubtedly get a great deal. Using the SPAR exclusive code to receive rewards such as Buy 1 Get 1 free, instant cashback, flat discounts, and more from Spar.
Spar distinguishes itself with easy features such as card on order, same-day delivery, and a no-questions-asked policy.
9) Spencer's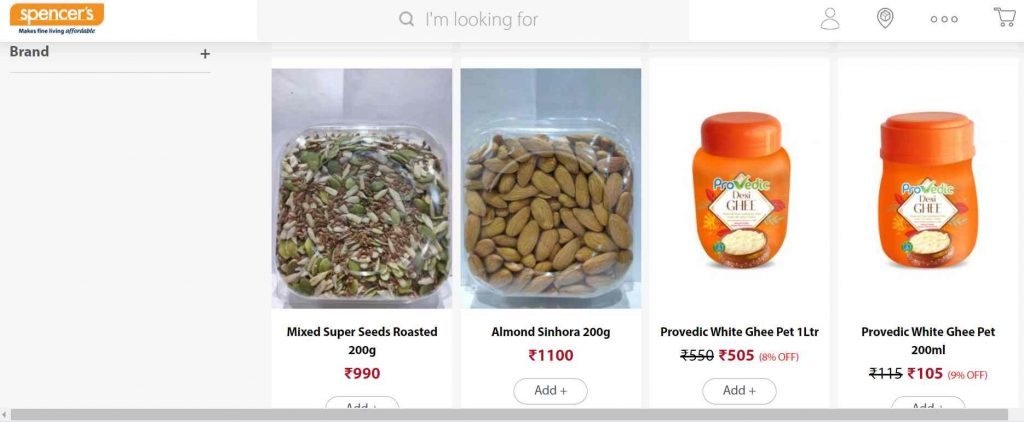 Spencer's is an Indian supermarket chain with locations all over the country. They also have an online grocery store with a website and an app. At the moment, Spencer's coverage is restricted to a few cities in north and south India.

On their online grocery network, they're expanding. Spencer's is a good option if you're in their service area. Their customer service is excellent.
10) StarQuik
StarQuik is a great place to shop for grocery and other household items online. Star Mart, their brick-and-mortar store, is already well-known among Indians.

Tata Group, India's largest and most admired industrial house, owns StarQuik and Star Mart.
Also Checkout: 11 Clever Tips for Grocery Shopping On a Budget
11) Snapdeal Grocery
Snapdeal, India's homegrown and fledgling online shopping portal, also has a comprehensive grocery site, Snapdeal Grocery. They are competitive with most other online grocery stores.

In fact, I recommend that you look through their products because you'll find a lot of items that others don't, such as unusual grains and packaged foods.
12) Easyday Club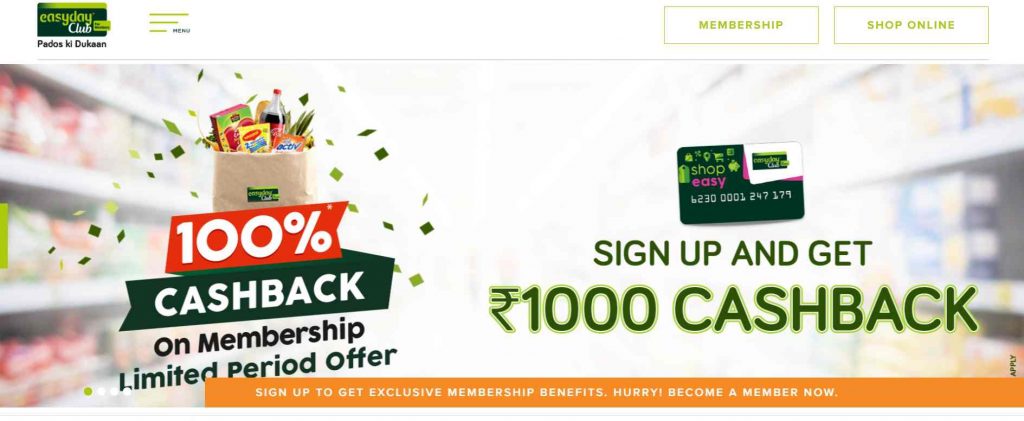 Future Retail Ltd is the company behind Easyday Club. They are present in almost all of India's major cities. Easyday Club is a membership-only organization. To put it another way, you build an online account and deposit money using their website or app.
You can shop for as long as your account balance lasts and reload at any time. Easyday Club also offers Easyday Fresh, which allows you to order fresh produce such as fruits and vegetables and have it delivered to your doorstep.
13) Paytm Mall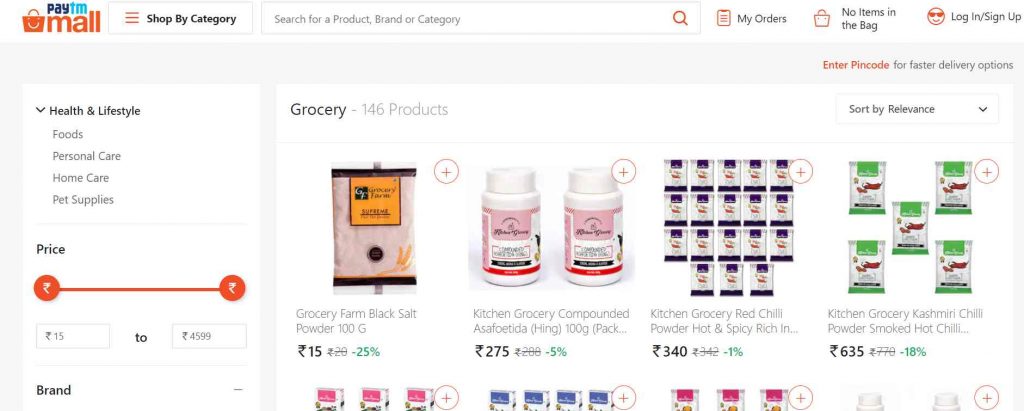 Paytm Mall was established in 2017, but it is quickly gaining traction. It is now one of the most popular online grocery stores, as well as a variety of other products.

To shop for groceries online on Paytm Mall, all you need is the Paytm app. You can use your Paytm wallet, Paytm Payments Bank account, or their debit card to make a payment. They sometimes come up with great deals.
14) Shopclues Grocery
Though few people use Shopclues to shop for groceries online, it is one of the best websites and apps for doing so. Shopclues.com is well-known for a variety of other products, including cell phones, electronics, and clothing.
However, I suggest that you look at their grocery section as well. You'll find a huge selection of items at great prices. Their home delivery service is also excellent.
15) Brownbag

Brownbag is an example of a online grocery site that will make your life easier during this pandemic.

Brownbag is a favorite among its users because it offers 15000+ items at the lowest possible cost, as well as a variety of time slots to choose from.
Return policies are clear and simple, so you won't have to go through a lengthy and inconvenient return process.
16) Just Hap
Just Hap is an online shop that offers supplies to customers' doorsteps in the safest way possible. It offers a convenient way to buy groceries, fruits, and vegetables in these difficult times of Covid-19.

Just Hap also offers makeup, cleaning essentials, poultry, and dairy items in addition to these categories. The app can be downloaded from both the App Store and the Google Play Store.
17) Dunzo
Dunzo was established in Bangalore in 2014 and has become the most popular delivery app in the region. It is also available in seven other major Indian cities.

It provides beef, medicines, pet supplies, and other necessities in addition to groceries. Dunzo's most appealing aspect is its fast delivery. It delivers groceries in as little as 30 minutes after placing an order.
Google invested in Dunzo in 2017, making it a very promising grocery delivery app in India. Dunzo can deliver even a single item to your door.

Dunzo can deliver all of your orders in one order if you buy from several stores. It also has a range of online and offline payment options.
18) Big Mart
In India, the number of online shopping apps is increasing at an exponential rate. Big Mart helps you to refurbish your grocery shopping time into more profitable quality time.

You can now buy the best grocery from the comfort of your own home with just a few clicks and swipes. Big Mart has been providing high-quality, fresh goods to its users across India since its establishment in 2016.
19) Patanjali

Patanjali Ayurved is the only online grocery store in India that ships to any zip code. On their web portal or app, you can only purchase Patanjali Ayurved and Divya Pharmacy brand items.

Patanjali sells everything from grains and flours to breakfast cereals and health drinks, as well as toiletries and personal hygiene products.
For a one-time fee of Rs.100, you can get discounts, free delivery, and exclusive deals for online grocery shopping with their Swadeshi Samridhi Card.

With the card, you also get life insurance with a cover of Rs.500,000 in case of death and Rs.250,000 in case of permanent disability.
20) Flavors of My City
Flavors of My City began as a foodie portal a few years ago and has since evolved into a top-tier online grocery retailer. Flavors of My City, on the other hand, is a unique online grocery. A curated list of grocery products can be found here.
This means they only sell the most common items from each area, such as Assam tea powder, spices from south India, Basmati rice from the Himalayan plains, West Bengal sweets, and so on.

Regardless, their product selection is incredible if you want to sample the best types of foods from all over the world.
21) SuprDaily
SuprDaily is a subscription-based delivery service for milk, bread, and eggs, as well as groceries. It allows users to conveniently handle their grocery needs from their smartphones.
Even if you order by 11 p.m., SuprDaily guarantees delivery by 7 a.m. Next day. There are no minimum order requirements, and you can even schedule your delivery.

Another feature of the SuprDaily grocery delivery app is its round-the-clock customer service.
And with that, we've come to the end of our list of online shopping sites for grocery in India. It is truly a blessing to be able to shop for groceries online at the best prices from the comfort of your own home!
However, if you have any additional websites or applications that can assist us with online grocery shopping, please let us know in the comments!
Also Checkout: 11 Clever Tips for Grocery Shopping On a Budget